Description
■  Description
Track motion, sense depth, monitor and count: people or items thanks to an output of 64 high-speed distance readings. Developed for indoor applications, TeraRanger Evo 64px provides a matrix of 8×8 pixels over a 15 degree FOV, with a maximum range up to 5m.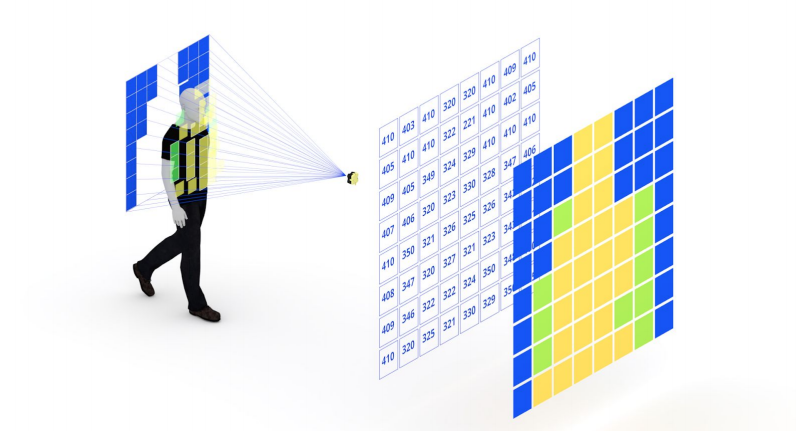 64 pixel 3D depth map
Compact and lightweight design (from 12 grams)
Capture fast-moving objects (up to 130 fps sampling rates)
Starts measuring from just 10 centimeters
Immune to low light and darkness
Eye-safe in all conditions
ROS ready
■  Applications

■  Please note:
To function, each TeraRanger Evo requires a yellow backboard for USB or I2C/UART interface.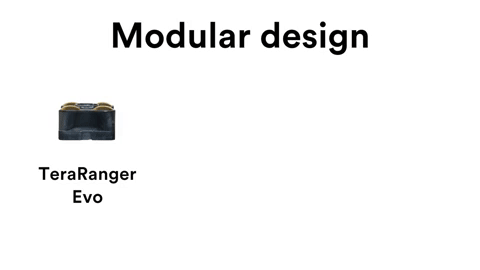 ■  Comparison
Evo 60m
Evo 600Hz
Evo 3m
Evo 64px
Principle
Infrared Time-of-Flight
Resolution
1 pixel
1 pixel
1 pixel
64 pixels (8×8)
Range
0.5-60m
0.75-8m
0.1-3m
0.1-5m
Update Rate
Up to 240Hz
Fixed 600Hz
Fixed 100Hz
Up to 130fps
Accuracy
±4cm in the first 14m, 1.5% above 14m
±12cm
±2cm
± 5cm 0.1m to 1m
± 10cm 1m to 3m
± 15cm > 3m+
Weight
9g
9g
9g
12g
FoV
Approx. 2°
Approx. 2°
Approx. 2°
Approx. 15°
Interfaces
UART, I2C, USB
UART, I2C, USB
UART, I2C, USB
UART, USB
Compatible w/ Hub Evo
O
O
O
Pending
■  Package Contents
| | |
| --- | --- |
| Description | Quantity |
| TeraRanger Evo 64px | 1 |