Description
* TeraRanger Evo sensors require a USB or I2C/UART backboard for communication.
■  Description
TeraRanger Evo 600Hz reacts faster and detects objects with greater assurance thanks to a fixed update rate of 600 readings per second.
Ideal for fast-moving robotics, smart city and industry 4.0 applications
Fast and reliable – fixed update rate of 600Hz
Seamless integration – small and lightweight (from 9g)
2° Field of View – measures the distance of an area
Modular design – options for custom interfaces
ROS ready and compatible with popular drone flight controllers
Eye safe and CE certified
■  Please note:
Each TeraRanger Evo requires a yellow backboard for USB or I2C/UART interface.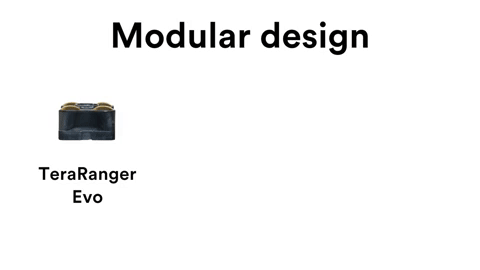 ■  Teraranger Evo Comparison
Evo 600Hz
Evo 3m
Evo 15m
Evo 40m
Evo 60m
Evo 64px
Principle
Infrared Time-of-Flight
Resolution
1 pixel
64 pixels (8×8)
Range
0.75-8m
0.1-3m
0.5-15m
0.5-40m
0.5-60m
0.1-5m
Update Rate
Fixed 600Hz
Fixed 100Hz
Up to 240Hz
Up to 130fps
Accuracy
±12cm
±2cm
±4cm in the first 14m
1.5% above 14m
± 5cm 0.1m to 1m
± 10cm 1m to 3m
± 15cm > 3m+
Weight
Sensor 9g + Backboard 3g
12g + 3g
FoV
Approx. 2°
Approx. 15°
Interfaces
USB, UART/I2C
Compatible w/ Hub Evo
X
0
X
■  Package Contents
| | |
| --- | --- |
| Description | Quantity |
| TeraRanger Evo 600Hz | 1 |