Description
* Hub Evo Backboards are required for communication between the TeraRanger Hub Evo and Evo distance sensors.
■  Description
The compact and lightweight (13g) board enables you to connect up to 8 TeraRanger Evo distance sensors and stream distance data in millimeters via USB and UART interface. TeraRanger Hub Evo features a crosstalk avoidance mode triggering sensors in a sequence to avoid crosstalk and allowing to place these where necessary! It's the ideal solution for research, R&D projects and rapid prototyping of multi-sensor configurations.
Connect up to 8 Evo sensors of the same type per Hub Evo
Simultaneous monitoring of up to 8 directions
Features multi-sensor crosstalk avoidance
USB or UART interfaces
Lightweight design, from 13 grams
ROS ready
Built-in IMU
■  ToF Multi-sensor Applications

■  Built-in Crosstalk Avoidance for Sensor Arrays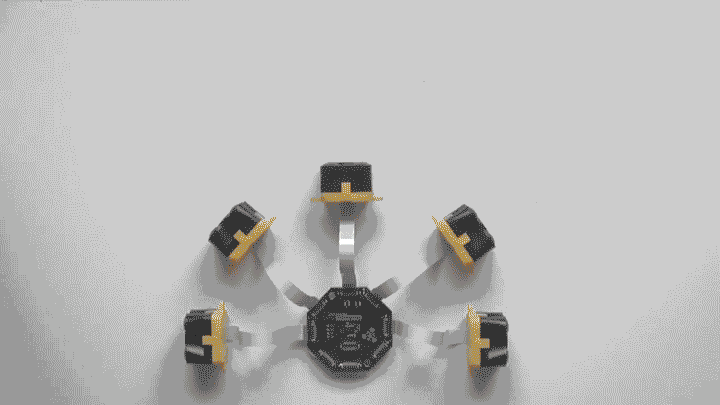 Hub Evo offers two operating modes:
– Select Simultaneous mode and maximize data acquisition speed from each sensor connected to the Hub Evo.
– When sensors are positioned in a configuration where crosstalk is likely, go for Sequential mode. The Hub Evo synchronizes distances measurements from each sensor, triggering these in a sequence that avoids crosstalk.
■  Compatibility with TeraRanger Evo Sensors
TeraRanger Evo sensors consist of an optoelectronic sensing device (black module) and a choice of interface backboard (yellow model), which simply plugs-in to provide the sensor with its communication link and power management capabilities.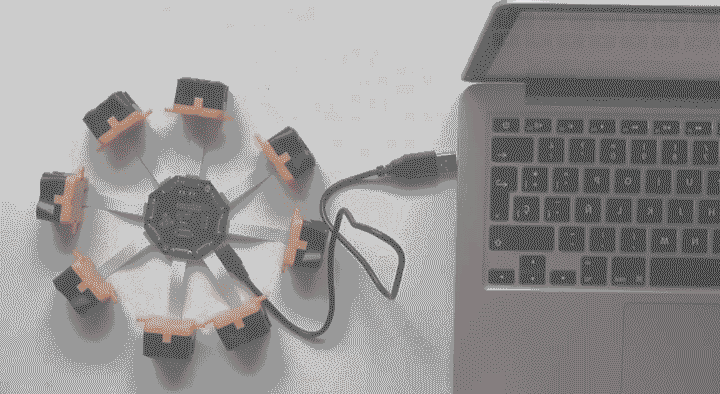 TeraRanger Hub Evo is compatible with the following ToF TeraRanger Evo distance sensors:
• TeraRanger Evo 3m
• TeraRanger Evo 15m
• TeraRanger Evo 40m
• TeraRanger Evo 60m
• TeraRanger Evo Mini
A specific interface board is required – Hub Evo Backboard – to ensure connectivity between the TeraRanger Hub Evo and Evo distance sensors.
■  Package Contents
| | |
| --- | --- |
| Description | Quantity |
| TeraRanger Hub Evo | 1 |
| UART board | 1 |
| Micro-USB cable (50cm) | 1 |
| UART cable: DF13 6pin to open ended cable (22cm) | 1 |
| Power cable with open ends (10cm) | 1 |
| M3 screw | 2 |
| M3, 3mm spacer | 2 |
| M3 nut | 2 |