Description
■  Description
TeraRanger Multiflex is a modular & low-cost sensing kit.
You'll receive 8 plug & play sensor modules on one flexible bus making it easy to create custom configurations and to place sensors where needed. When sensors are positioned in a configuration where crosstalk is likely, the central Hub synchronizes distance measurements from each sensor, triggering these in a sequence that avoids crosstalk. It's the ideal – and higher performance – alternative to ultrasound for robot collision avoidance, stock monitoring and a myriad other closer range distance sensing applications, all in one convenient and easy to use kit.
Time-of-Flight technology
Multi-sensor crosstalk avoidance
Detection range: from 0.05 up to 1.10m
Update rate: up to 50Hz
I2C / UART / USB interface
Kit includes 8 distance sensors, central Hub & cables
Pre-calibrated distance data in millimeters
Weight: 20 grams
ROS ready
■  ToF LiDAR Indoor Applications

■  Available in Two Versions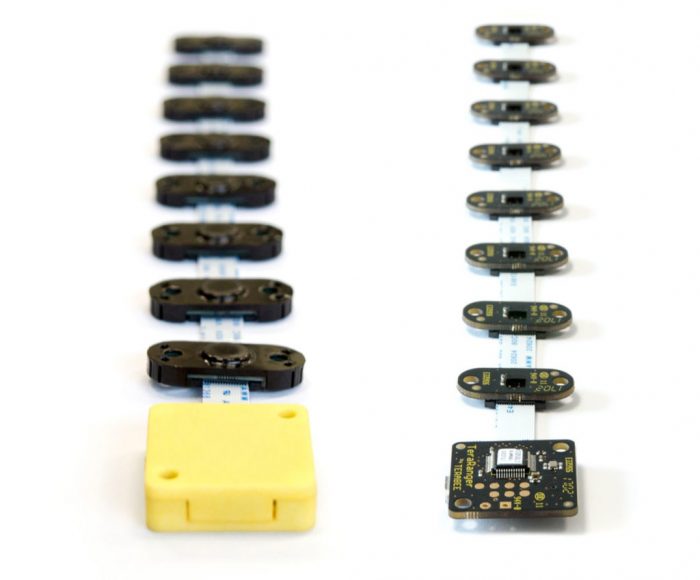 TeraRanger Multiflex is available in two versions; Multiflex and Multiflex PCB.
TeraRanger Multiflex has dust and splash protection covers and offers the fastest refresh rates (up to 50Hz), while Multiflex PCB has the longer detection range, up to 2.0m. See the specification sheet for further information on the two versions.
■  Package Contents
| | |
| --- | --- |
| Description | Quantity |
| Sensor with cover | 8 |
| Multiflex Hub and case | 1 |
| Flat Flex cable (10cm) | 8 |
| Micro USB cable (50cm) | 1 |