Description
■  Description
myCobot is the smallest and lightest six-axis collaborative robot in the world, jointly developed by Elephant Robotics and M5Stack. The robot arm is full of imagination and creativity and can be developed according to the needs of users to achieve DIY goals, making it a perfect collaborative robot for education and research.
■  Unique Industrial & Compact Design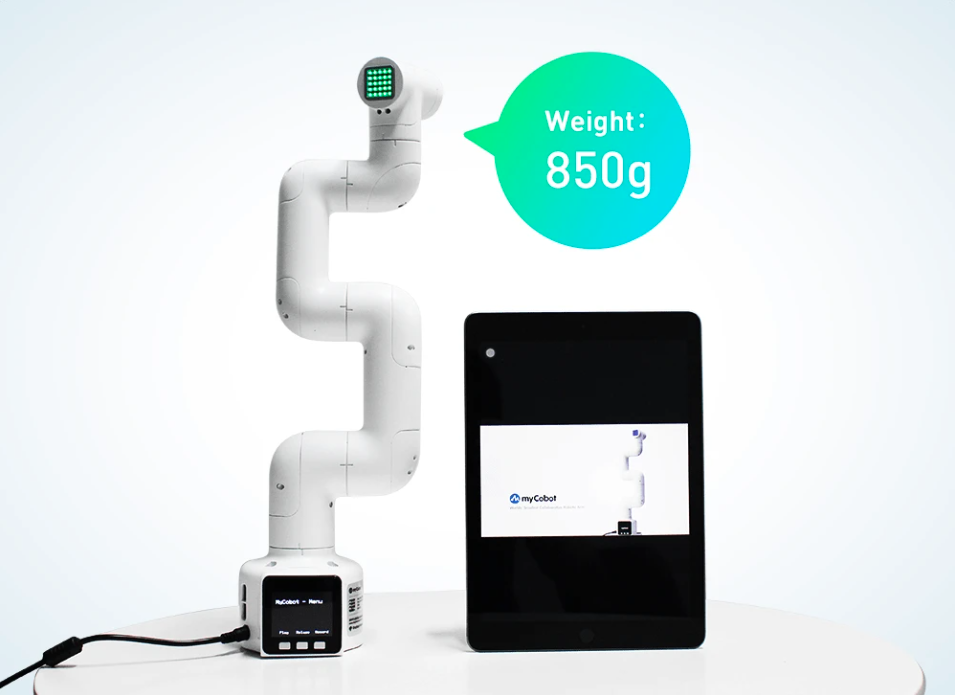 myCobot adopts an integrated modular design and weighs only 850 grams, which is light and compact. The overall structure of the mechanical arm is simple and stylish, with few spare parts, and can be quickly disassembled and replaced.
■  High Configuration & Equipped with 2 Screens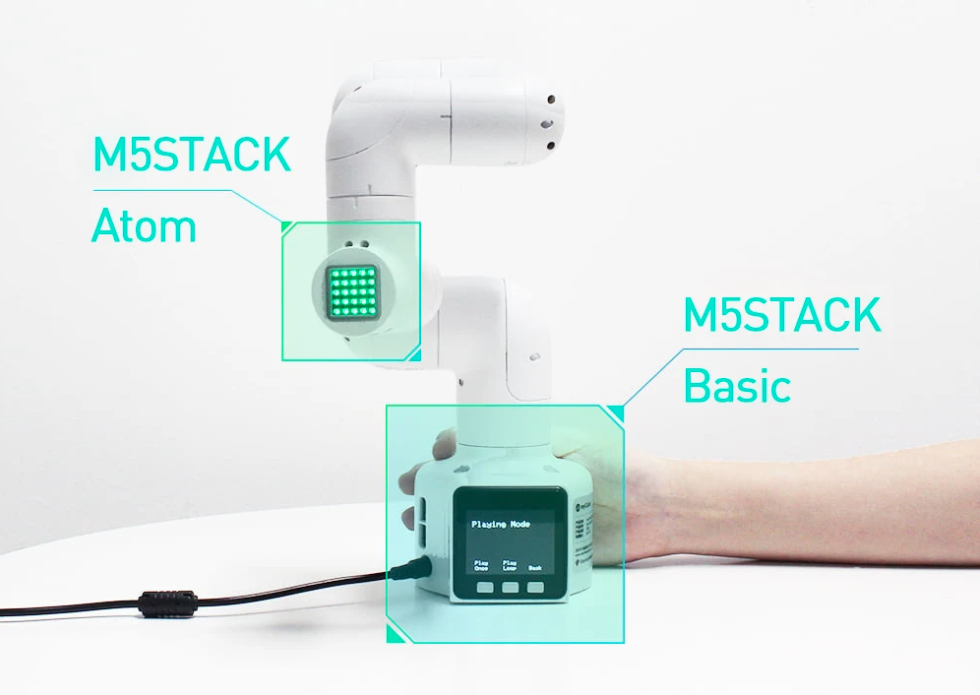 myCobot contains 6 high-performance servo motors with fast response, small inertia, and smooth rotation. The cobot carries 2 display screens supporting the fasted library to show the expanded application scene more easily and clearly.
■  Lego Connectors & Thousands of M5STACK Ecological Application
The base and end of myCobot are equipped with a Lego Connector, which is suitable for the development of various miniature embedded equipment. Its base is controlled by M5Stack Basic, an open-source dev kit that enables thousands of application cases can be used out-of-box.
■  Blockly Programming & Supporting Industrial ROS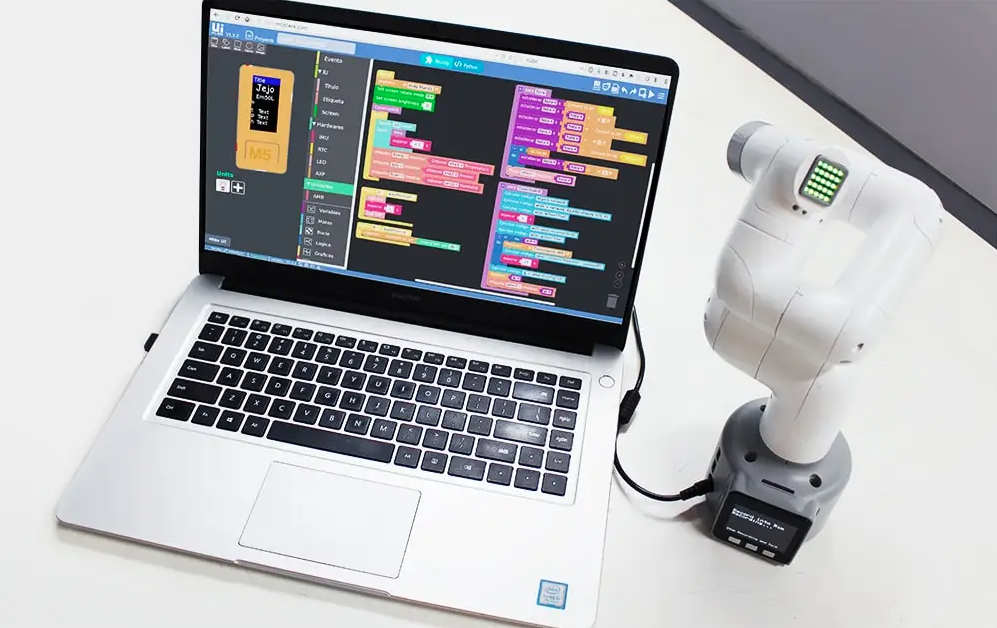 Using UIFlow visual programming software, programming myCobot is simple and easy for everyone. You can also use RoboFlow, software of industrial robots from Elephant Robotics, supporting multiple functional modules Arduino + ROS open-source system.
■  Track Recording & Learn by hand
Get rid of the traditional point saving mode, myCobot supports drag trial teaching to record the saved track and can save up to 60 mins different Tracks making it easy and fun for beginners to learn robotic arms.
■  How to control myCobot M5?
Learn by Hand: Get rid of the traditional point saving mode, myCobot supports drag trial teaching to record the saved track and saves up to 60mins different tracks making it easy and fun for new players to learn.
You can use the digital pins on the robot to make it communicate with other devices, for example, Arduino (tutorial)
With Myblockly, our free desktop application, Mind+ or UiFlow, uses blocks to create your own robotic programs. Based on Blockly (similar to Scratch), our visual programming interface allows you to quickly and easily create robotic programs without any prior programming knowledge. You can also use RoboFlow, our software of industrial robots.
Advanced Users: develop your own controller (use a computer mouse, a keyboard, a game controller or Leap Motion to control myCobot according to your preferences and needs), use our API (Python、C++、C#、Javascript) to control myCobot directly or remotely or dive directly into the ROS code, which is open-source.
■  myStudio
myStudio is a one-stop platform for myCobot. With myStudio, you can do –
Update the firmware.
See video tutorials on how to use the robot.
Find maintenance and repair information such as tutorials, Q&A, etc.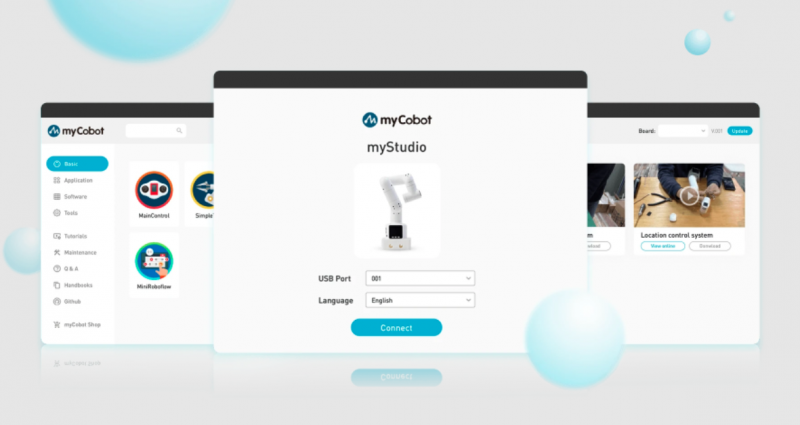 ■  Working Range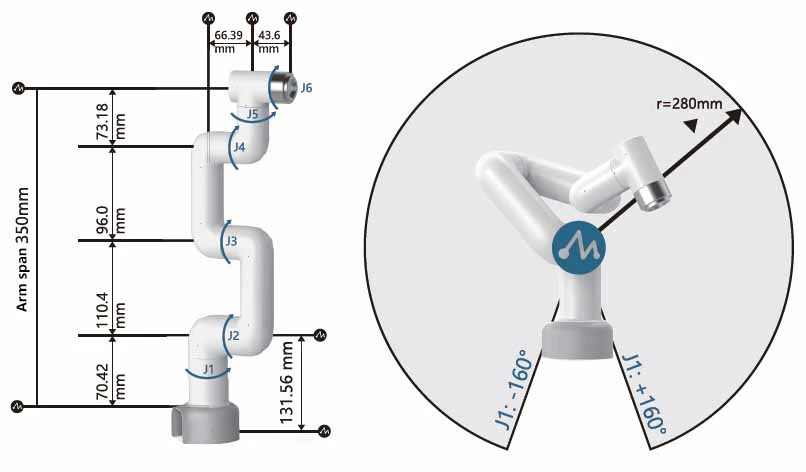 ■  Applications
myCobot is compact but powerful, the cobot can not only be matched with a variety of end effectors to adapt to different kinds of application scenarios also support the secondary development of multi-platform software to meet the needs of various scenarios such as scientific research and education, smart home, light industry, and commercial applications.
■  MyCobot 280 M5Stack Package