Description
■  XH540-V270-R
Stall Torque: 9.2 N.m
No Load Speed: 34 rpm
Input Voltage: 24V
Gear Ratio: 272.5 : 1
Physical Connection: RS-485
Coreless Maxon motor
■  Basic Features
6 Operating Modes


Torque Control, Velocity Control, Position Control, Extended Position Control, Current based Position Control, PWM Control



Profile control for smooth motion planning
Improved heat sink featuring an aluminum case
Hollow back case minimizes cable stress (3-way-routing)
Direct screw assembly to the case (without nut insert)
Energy saving (reduced current from 100mA to 40mA)
28.4% reduced volume compared to the MX-106
Support synchronous control mode
Support external I/O port support
■  Package Contents
Description

Quantity
DYNAMIXEL
XH540-V270-R
1
HORN
HN13-N101
1
WASHER
Teflon Washer (for Horn Assembly)
1
CABLE
Robot Cable-X4P 180mm
1
Robot Cable-X4P (Convertible) 180mm
1
BOLT/NUT
Wrench Bolt (WB M2.5*5)
16
Wrench Bolt (WB M2.5*4)
10
Wrench Bolt (WB M3*8)
1
ETC
Spacer Ring
8
■  Performance Comparison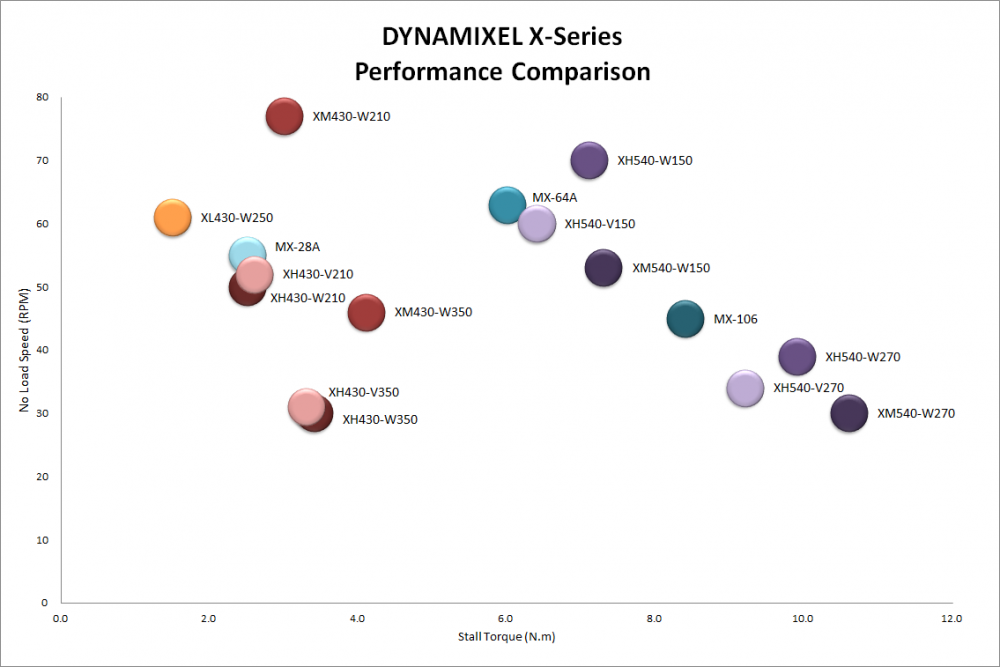 ■  Key Names

■  Model Numbering

■  How to Use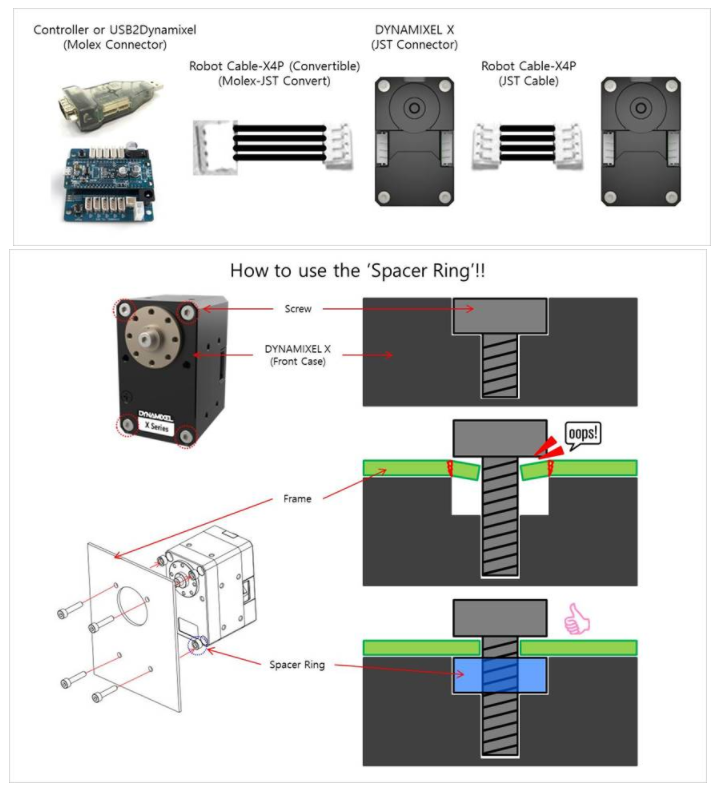 ■  Various Cabling Methods

■  Please note:
The DYNAMIXEL X-Series adopted a new gold-plated JST connector for secure and reliable communication.
For more information, please see the [DYNAMIXEL Connector Standard] page on ROBOTIS' e-Manual.
To control DYNAMIXEL X-Series actuators via OpenCM or USB2Dynamixel, please use the JST-Molex Convertible Cable enclosed in the package.
However, the Molex-JST convertible cable is NOT included in the XL430 model. Please purchase a convertible cable when using a controller and interface that supports the JST connector.
Controller / Interface Board

Cable

Dynamixel X

Model

Supports Connectors :

Supports Connectors :

Communication

OpenCM+485 Expansion Board

Molex (3P, 4P)

Robot Cable-X3P 180mm (Convertible)

JST-3P

TTL

USB2Dynamixel

OpenCR1.0

JST (3P, 4P)

Robot Cable -X3P (by length)

U2D2

OpenCM+485 Expansion Board

Molex (3P, 4P)

Robot Cable -X3P 180mm (Convertible)

JST-4P

RS-485

USB2Dynamixel

OpenCR1.0

JST (3P, 4P)

Robot Cable -X3P (by length)

U2D2