Description
■  Description
OpenCM9.04 is an open-source controller that runs on a 32bit ARM Cortex-M3.
The 3-Pin connector is used to control ROBOTIS' Dynamixels with TTL communication.
Uses a USB Cable (Mircro-B) (included), to download programs onto the board.
The board is easily programmable with [ROBOTIS OpenCM], an Arduino-like IDE that allows the user to program in C/C++.
JTAG / SWD terminal can be used run commercial developmental programs.
■  Please note:
The OpenCM 485 Expansion Board, which supports TTL and RS-485, can be used to control all types of DYNAMIXEL's, such as AX, MX, X and Pro series.
When using the OpenCM9.04-C to control the DYNAMIXEL, a separate power supply must be supplied to the DYNAMIXEL.

 

RoboPlus can be used when the board is connected to the PC via USB Downloader LN-101 or BT-210.
PC must have Bluetooth device for Bluetooth connection.
ROBOITS OpenCM IDE can be used only via Micro 5PIN USB Cable.
The RoboPlus and ROBOTIS OpenCM IDE CANNOT be used simultaneously.
The firmware must be changed depending on the software to be used. (Please refer to the e-Manual for changing the firmware.)
■  Diagram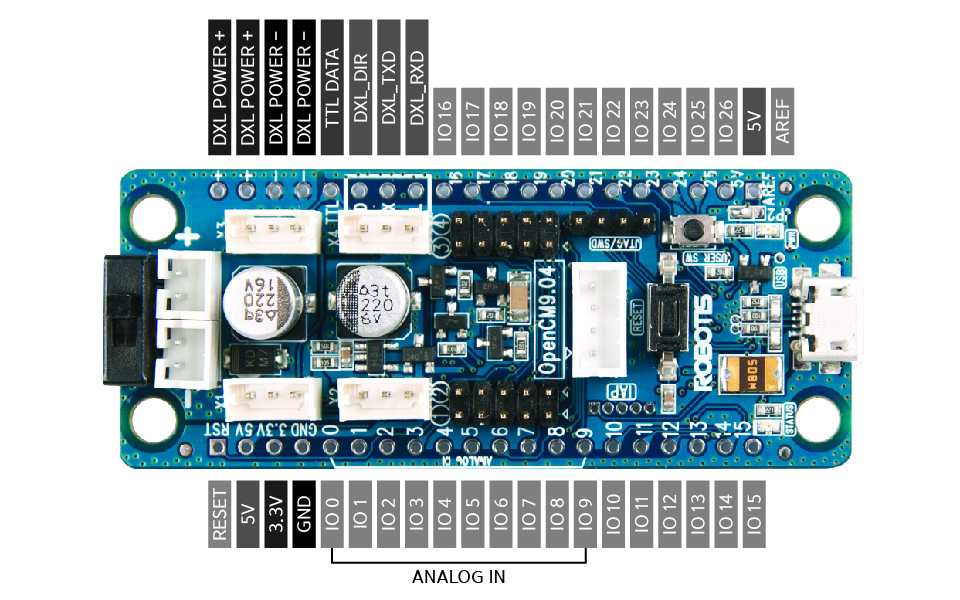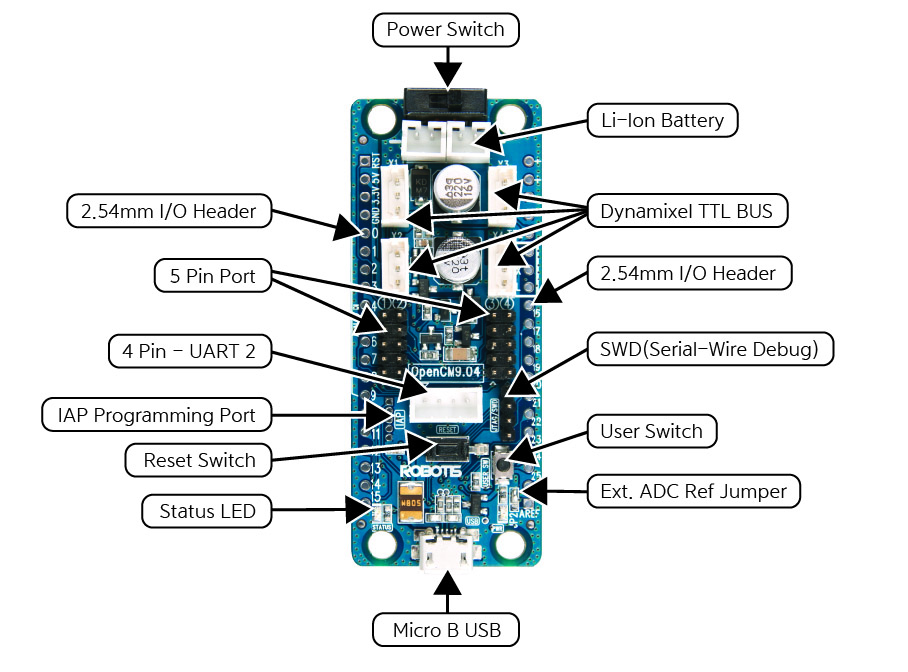 ■  Package Contents
Description

Quantity

Controller

OpenCM9.04_C

1

Socket

1×20 PIN Header Socket

2

Socket

1×20 BOX Header Socket

2

Cable

USB Downloader Cable (Micro-B)

1

Manual

Instruction Manual

1