Description
■  What is DYNAMIXEL?
The DYNAMIXEL is a smart actuator system developed to be the exclusive connecting joints on a robot or mechanical structure. DYNAMIXELs' are designed to be modular and daisy chained on any robot or mechanical design for powerful and flexible robotic movements. The DYNAMIXEL is a high performance actuator with a fully integrated DC (Direct Current) Motor + Reduction Gearhead + Controller + Driver + Network, all in one servo module actuator. Programmable and networkable, actuator status can be read and monitored through a data packet stream. Durability and quality is proven by world-class robot teams from over 30 countries.
■  DYNAMIXEL MX Series
The MX-series is a new type of DYNAMIXEL with numerous advanced functions, such as precise speed control, 360 degrees of accurate positioning, PID control, and high speed communication.
| | |
| --- | --- |
|                                             | The MX actuator contains a new contactless magnetic rotary encoder for accurate angular movement over a full 360 degrees. |
| | The absolute angle measurements provide instant and reliable information of the angular position with a   resolution of 12 bits = 4096 positions within 360 degrees. This delivers fine angle movements accurate to 0.088 degrees. |
| | The MX-series also integrates a new PID Control, which automatically and accurately corrects for naturally occurring errors such as backlash (caused by small gaps in the gears). Thus, positioning is more reliable and in compliance to specifications. |
■  Characteristics of Aluminum Front Case
Precisely designed and specially processed aluminium front case

Decreased noise

and

improved protection against heat

Front screw threads are already threaded for easy bolt assembly

Maintains same dimensions as the existing DYNAMIXEL MX-series 

(option frames are compatible)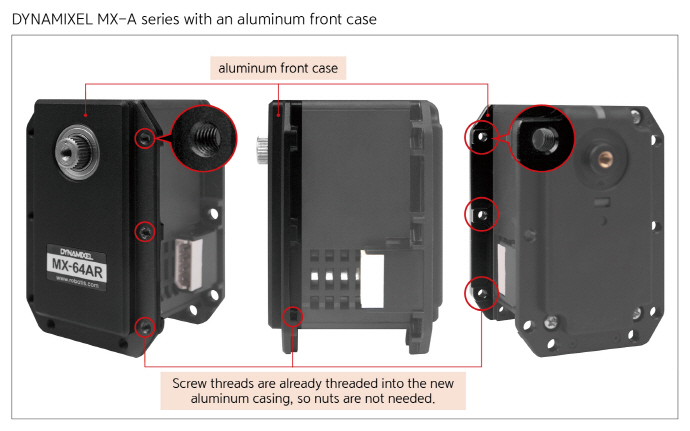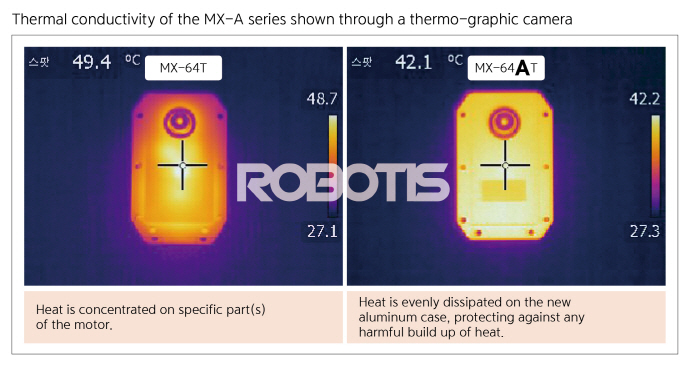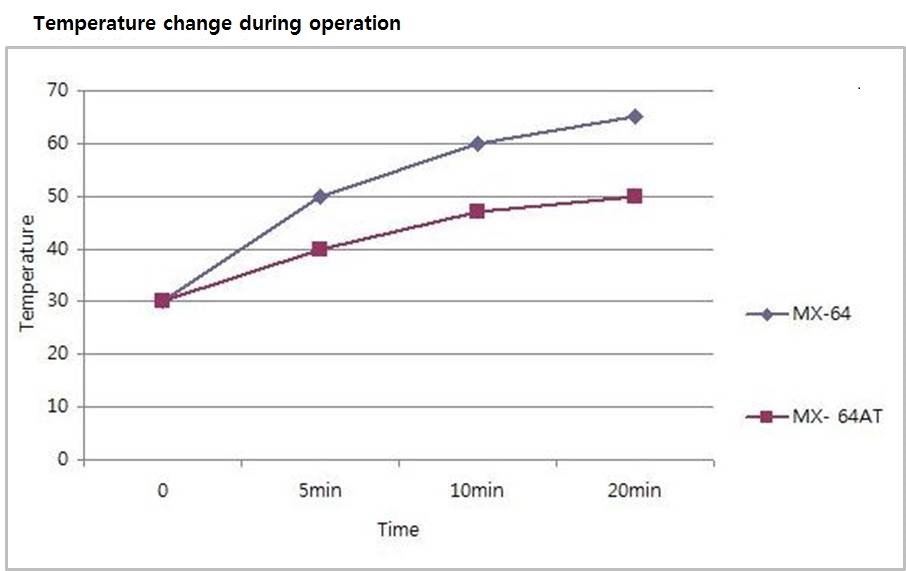 ■  Package Contents
Description

Quantity
DYNAMIXEL

MX-64AR

1

HORN

HN05-N102

1

WASHER

Thrust Washer

1

CABLE

4P Cable

 200MM

1

BOLT/NUT
Wrench Bolt

 M2.5*4

16

Wrench Bolt

 M3*8

1

Nut M2.5

18