Description

■  DYNAMIXEL XW Series
DYNAMIXEL XW series are ROBOTIS' first line of IP level models, featuring a certified IP68 rating and are designed for use in wet environments, underwater, and any outdoor applications where a sealed servo is necessary.
6 Operating modes–
Torque control, Velocity control, Position control, Extended position control, Current based position control, PWM control
Certified IP68 rating (1m, 24hr)
Profile control for smooth motion planning
Improved heat sink featuring an aluminum case
Direct screw assembly to the case (without nut insert)
Energy saving (reduced current from 100mA to 40mA)
31% reduced volume compared to the MX-28
■  Package Contents
| | |
| --- | --- |
| Description | Quantity |
| XW430-T333-R | 1 |
| HN12-N105 | 1 |
| Robot Cable-WP 1000mm | 1 |
| Robot Cable-WP 1000mm (Extension) | 1 |
| Wrench Bolt WB M2.5×4 | 16 |
| Wrench Bolt WB M2x4 | 10 |
| Wrench Bolt WB M2.5×8 | 1 |
**XW series come with separate waterproof cable and extension cable.
■  Compatible Products
■  Factory Default Settings
ID : 1
Baud Rate : 57600bps
**User can change various settings including ID and baud rate according to environment.
■  Waterproof Cabling

■  Performance Comparison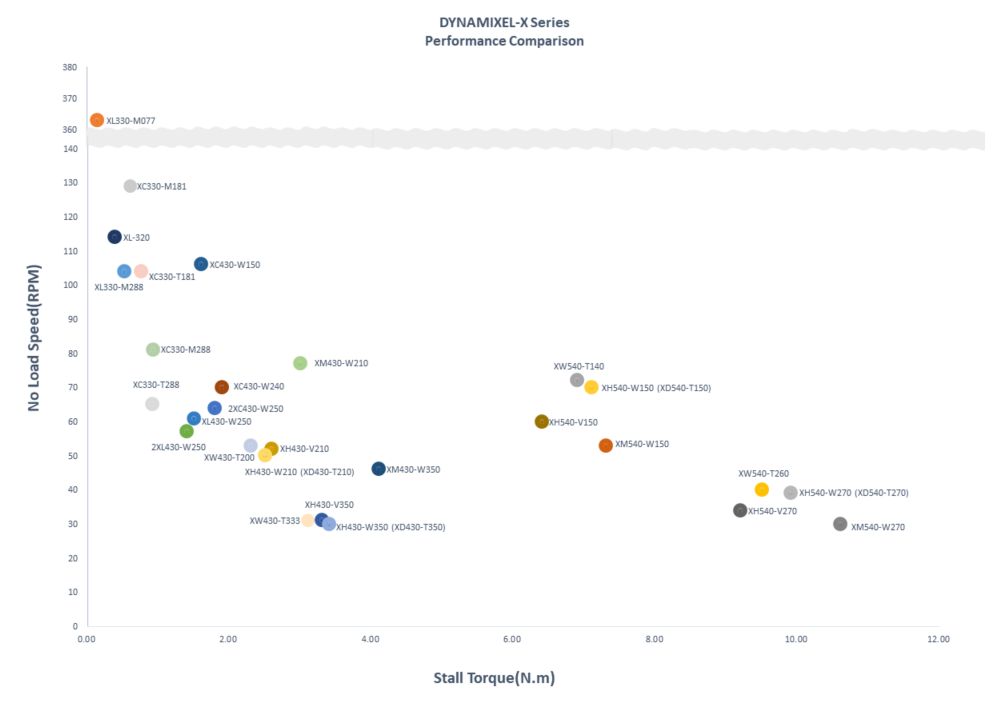 ■  Please note:
The DYNAMIXEL XW series comes with two waterproof cables;
One has a waterproof connector on one end and a JST connector on the other.
The other cable is an extension cable with waterproof connectors on both ends.
The OpenCR controller has a JST connector for direct connection, but since the OpenCM9.04 + OpenCM 485 expansion board only has a Molex connector, a conversion cable must be used by utilizing U2D2 PHB.