Description
■  Description
The DYNAMIXEL-P is a high power, high precision and industrial size version of the smaller DYNAMIXEL's. It offers a full modular solution with sophisticated control algorithms and a unique gear reduction system.
■  Features of The New DYNAMIXEL-P Lineup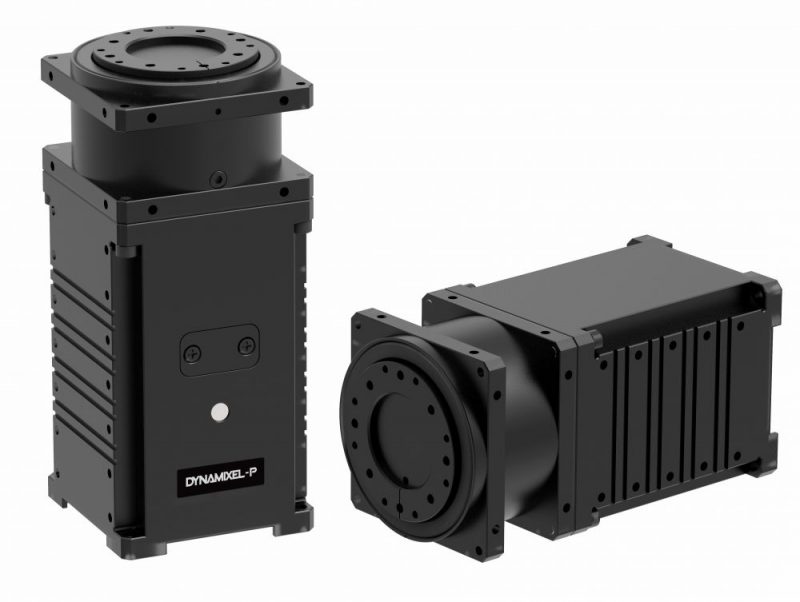 Integrated robot-driving device: Contains all necessary features for robot joints integrated into a single module.
Strong and durable reduction cycloid gearing: Dynamixel-P implements removable reduction cycloid gears. Small and lightweight cycloids allow a high-ratio reduction gear device. Also cycloid gears are more resistant to vibrations and impacts resulting in minimal backlash.
Variety of models: Dynamixel-P motor, redactor, reduction ratio, communications type, etc. have been accommodated to meet various price ranges. The user is able to choose the most proper Dynamixel-P model necessary for the robot.
Variety of control algorithms: Dynamixel-P adopts position, velocity, and electrical current control algorithms. The user can control these 3 aspects in any combination and properly tune the robot. Dynamixel-P provides a graph illustrating the relationship between electrical current and torque. This feature is useful for torque control via current control.
Precision control: PM54-060-S250-R with a

502,834 pulse per revolution

the user can control

0.0007 degrees per unit

allowing for high-precision control.
■  Compared to the Previous Dynamixel Pro Lineup
Improved design and JST connectors applied
Improved dirt inflow and leakage
Improved control table (Supports X-series functions)
Enhanced control performance such as responsiveness and resolution
Enhanced communication responsiveness
Improved heat, noise, and durability
■  Package Contents
| | |
| --- | --- |
| PM54-060-S250-R | 1 |
| Robot Cable-X4P 600mm | 2 |
| Wrench Bolt WB M3x8 | 20 |
■  Please Note:
Lead Time: Please contact us at sales@tribotix.com.
The operational voltage is 24V and may differ from other DYNAMIXEL series.
Depending on the number of units used, it is recommended to use a separate power supply.
Molex 4-pin connector is applied for communication.