Description
■  Description
The YVT-35LX-FK 3D Rangefinder measures distance by steering the laser beam vertically and horizontally. The built-in IMU sensor enables to obtain a data rich point cloud which can be obtained in groups of 20 for the horizontal view and a group of 10 vertically to obtain a high definition point cloud.
Very compact size (70mm x 106mm x 95mm)

35m horizontal range
14m vertical range
210° horizontal angular range
40° vertical angular range
20Hz scanning speed
A point cloud with 2590 points per frame
Multi-echo function (up to 4 echoes)
Acceleration and angular velocity IMU data
HD mode available
Pulse Per Second input & Synchronous output
Protective structure: IP67
■  Comparison: YVT-35LX-F0 vs YVT-35LX-FK
Model
YVT-35LX-F0
YVT-35LX-FK
Dimension
(W×D×H)

70×106×95 mm
76×106×95 mm
Weight
Approx. 0.65 kg
Approx. 1 kg
Noise Level
In front direction 53db
(at distance 1000mm) Frequency 1200Hz
In front direction 47db
(at distance 1000mm) Frequency 1200Hz
■  Applications
■  Wide Field of View
The leaser beam is steered 210° horizontally and 40° vertically. The detectable range is 35m to the front and roughly 14m to the sides.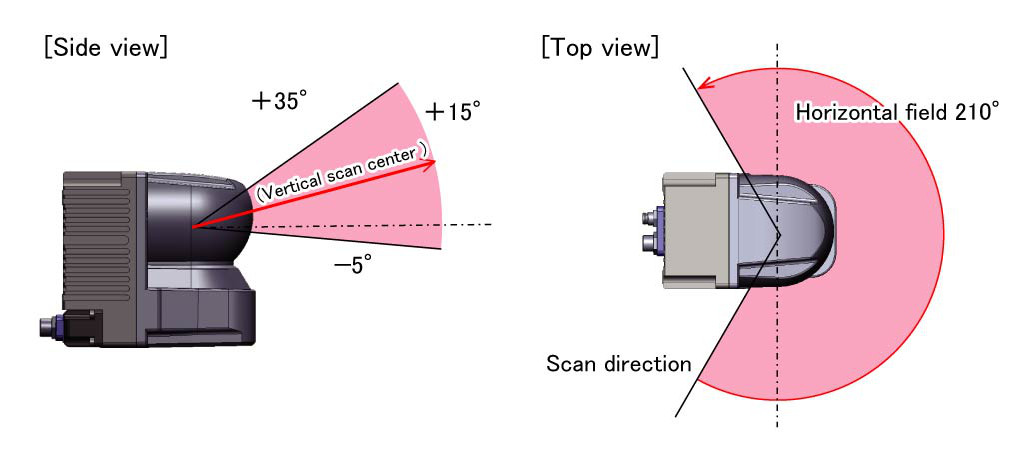 ■  Interlacing Mode
The laser emission position is shifted gradually in every cycle to generate a denser point cloud. It is possible to increase the density to 20 times horizontally and 10 times vertically independently.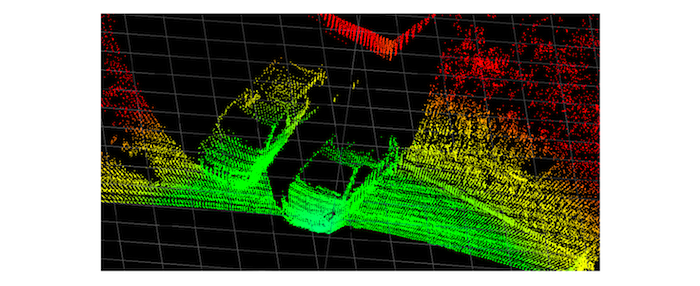 ■  Accelerometer (Gyroscope) included
The YVT-35LX series uses an accelerometer, the MPU-6500 from InvenSense. It detects angular velocity and acceleration, and users won't need to apply time synchronization.
NB: This scanner uses mechanical steering mechanism which would add noise to the received data.
■  PPS Input Signal
When used with GPS, PPS signal reset the scanner's timestamp to eliminate clock drifting error.
■  Multi-echo Support
In the same direction, reflections from rain, dust and fog may generate multiple returns. Distance measurement of each return is reported. For outdoor usage, multiple echo function allows separating rain, fog and mist from target objects and housing cover. Up to 4 echos are supported (first, second, third and the last)
NB: Internally, this scanner processes unto 8 returns and reports only 4.