Description
■  Description
The HNX430-C101 Set is a set of a clamping horn, two bolts and a thrust washer designed for the DYNAMIXEL XH430 and XM430 models.
The horn is to be connected to the wheel gear of the output shaft of the DYNAMIXEL.
The bolt clamping structure allows the horn to be more engaged to the wheel gear, and provides the effect of preloading the clamping force of the output shaft.
When the output shaft wears out due to vibration and shock, the clamping bolt increases the clamping force for continuous use.
When using LOCTITE on the screw, it can be tightened more firmly.
This set is NOT compatible with the hinge frame, FR12-H101K Set. The hinge frame compatible with this clamping horn will be released soon.
■  Package Contents
| | | |
| --- | --- | --- |
| Item Name | Quantity | Description |
| HN12-C101 | 1 | Clamping horn |
| Wrench Bolt WB M2.5×8 | 1 | Bolt for fastening horn to wheel gear |
| Wrench Bolt WB M2x8 | 1 | Bolt for clamping |
| Thrust Washer | 1 | Thrust Washer |
■  How to Assemble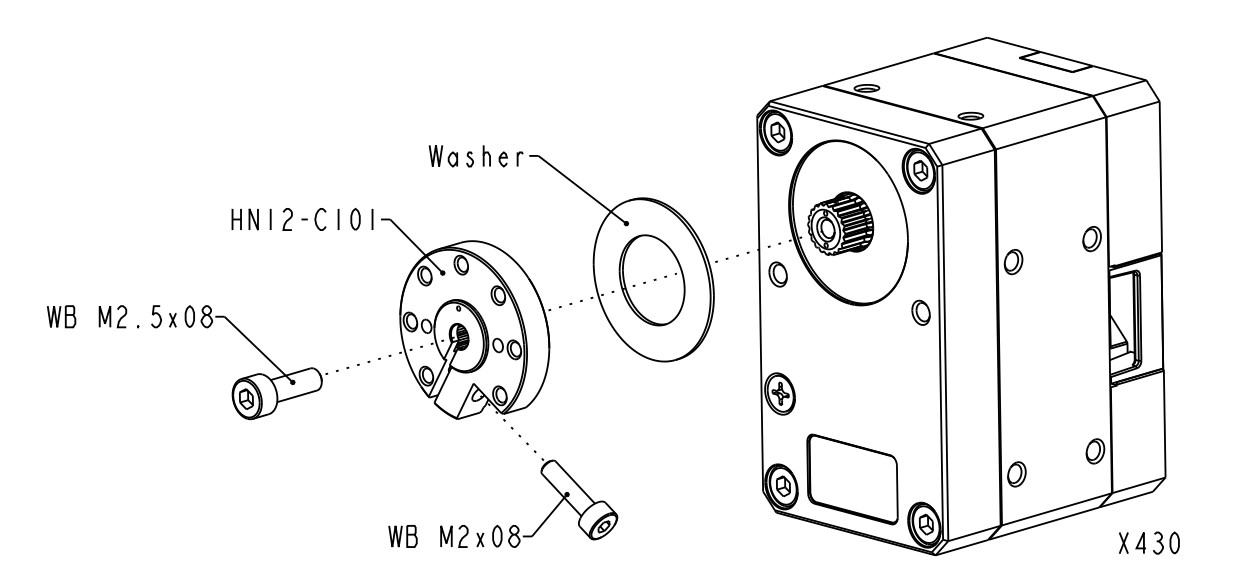 ■  Please Note:
Please note that this set is NOT compatible with the entire DYNAMIXEL MX-series and the XL430, XC430, 2XL430 and 2XC430 in the X-series.
For the waterproof XW-series, rust may occur depending on the operating environment, so it is recommended to use stainless-type screws.