Description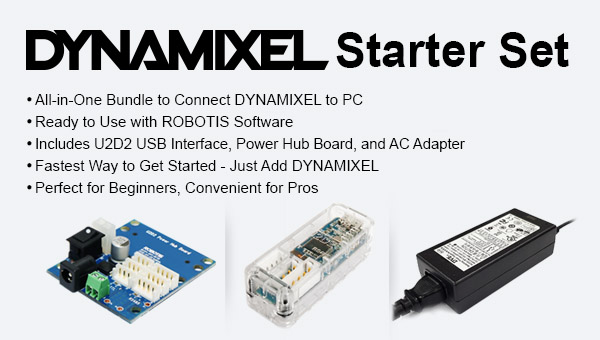 ■  DYNAMIXELStarter Set
The DYNAMIXEL Starter Set is ROBOTIS' recommendation for all first-time users of DYNAMIXEL smart actuators and for any users looking for a method to connect their DYNAMIXEL to a computer. With the DYNAMIXEL Starter Set, users can:
Compatible with all DYNAMIXEL smart actuators
Connect and configure DYNAMIXELs using ROBOTIS software
Provide power and communication to connected DYNAMIXELs
Operate DYNAMIXELs using ROBOTIS programming libraries/resources (DYNAMIXEL SDK, DYNAMIXEL Workbench, ROS)
Test and program DYNAMIXEL firmware features
Update and recover DYNAMIXEL firmware
Perform self-diagnosis and troubleshooting
Control DYNAMIXEL directly from a USB port on any computer/SBC (including Raspberry Pi).
U2D2 is a compact USB communication converter that enables users to control and operate DYNAMIXEL with a computer. It is smaller than the previous model and has mount holes to make it easier to install on robots. It uses a micro-B USB cable to connect to the user's computer and prevents damage of the USB terminals. It has both 3-pin connectors for TTL communication and 4-pin connectors for RS-485 communication to allow universal compatibility with any model of DYNAMIXEL. U2D2 supports direct connections to/from UART as well. To connect DYNAMIXEL models using Molex connectors, we offer "convertible" cables with one Molex and one JST connector compatible with U2D2.
U2D2 Power Hub Board combines with the U2D2 to supply a variety of external power sources to DYNAMIXEL units. The board is capable of supplying power to all models of DYNAMIXEL using the SMPS port, terminal block, and 2-pin power connector. The board has holes to attach the U2D2 module and it can be attached using plastic rivets supplied in the package. It provides a power switch for a convenient method to turn power ON/OFF.
SMPS 12V 5A AC Adapter is a wall plug adapter which can be combined with U2D2 Power Hub Board to provide 12V power to connected devices. The SMPS 12V 5A AC Adapter is recommended for use with all 12V DYNAMIXELs.
■  Package Contents
| | |
| --- | --- |
| Description | Quantity |
| U2D2 | 1 |
| U2D2 Power Hub Board | 1 |
| SMPS 12V 5A AC Adapter | 1 |
| USB Micro-B Cable | 1 |
| Robot Cable-X3P 100mm | 1 |
| Robot Cable-X4P 100mm | 1 |
| Robot Cable-X3P 180mm (Convertible) | 1 |
| Robot Cable -X4P 180mm (Convertible) | 1 |
| NUT M3 | 4 |
| SUPPORT M3x10x6 | 4 |
| Plastic Rivets (for U2D2 attachment) | 4 |
■  Assembly Guide

■  Please note:
When using the terminal block, please pay attention to the polarity when using external power.
Left side is – and Right side is +.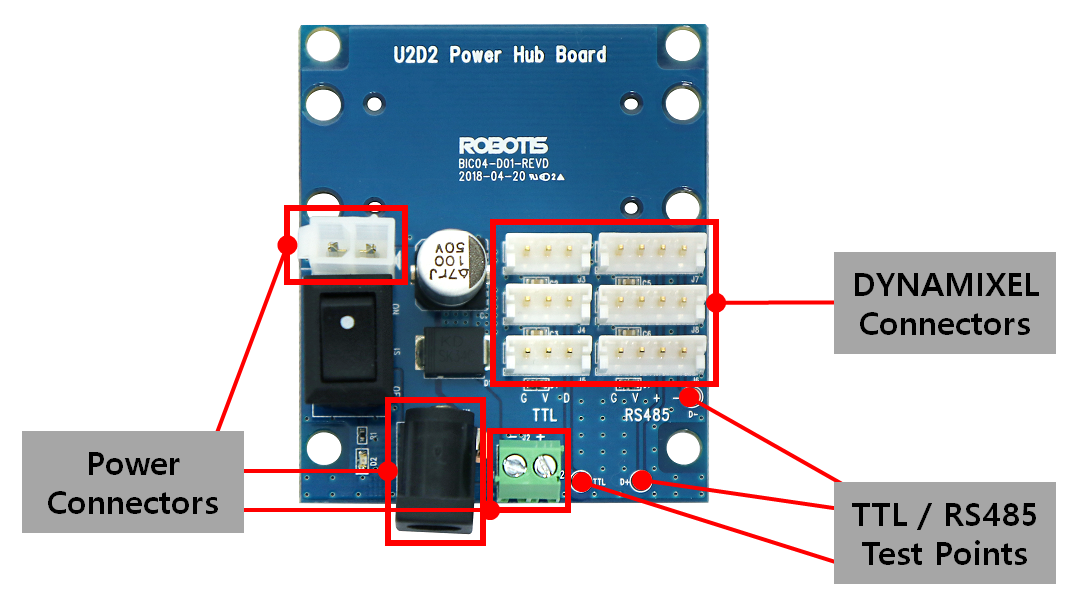 Various pins are exposed behind the board. We recommend users to assemble and use the included supports with the board.