Description
■  Features
The OpenRB-150 is a new open-source Arduino compatible embedded controller.
It has the same pinout and form factor as the Arduino MKR, and supports programming using the Arduino IDE. It features 4 dedicated DYNAMIXEL ports, and supports the DYNAMIXEL Wizard 2.0 easy use and maintenance of DYNAMIXEL.
■  Package Contents
| | | |
| --- | --- | --- |
| Item | Quantity | Description |
| OpenRB-150 | 1 | DYNAMIXEL Controller |
* Batteries and cables are not included in this package.
■  H/W Specifications
MCU
SAMD21 Cortex-M0+ 32bit low power ARM®
Operating Voltage
5.0V (USB 3.0)

3.7V ~ 12.6V (VIN or Terminal)

Operating Temperature
-40℃ ~ 85℃
Allowable Current
3.0A (DYNAMIXEL Port)
Connector Types
USB C-Type, Terminal Block
DYNAMIXEL Ports (TTL)
JST B3B-EH-A(2), JST S3B-EH-A(2) [Max 1Mbps]

Dimensions

66 x 25 mm

Weight

13g
■  Pinout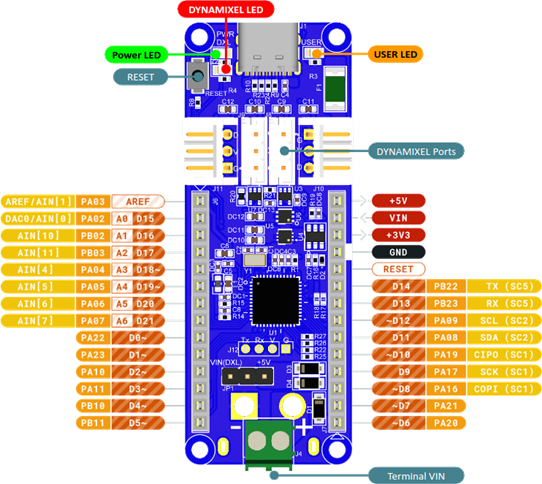 ■  How to Supply Power (3 methods)
Power can be supplied to the OpenRB-150 in three ways depending on the voltage and serial communication type of DYNAMIXEL.
1. 5V TTL DYNAMIXEL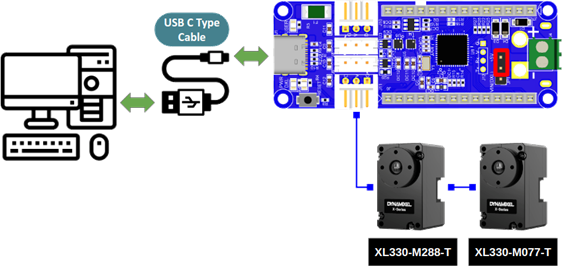 2. 12V TTL DYNAMIXEL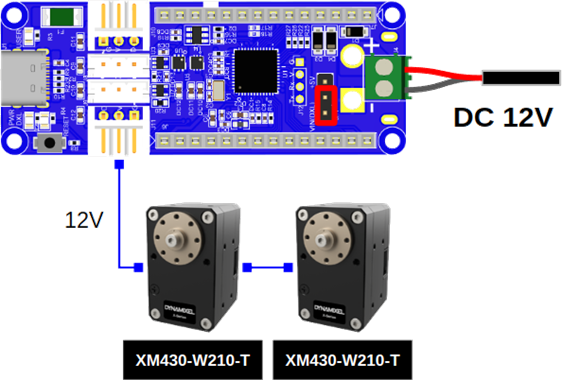 3. 12V RS-485 DYNAMIXEL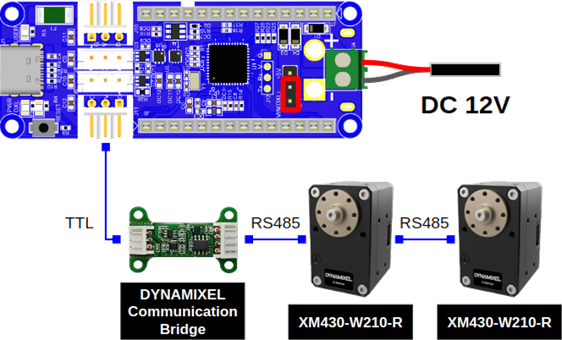 ■  Compatible DYNAMIXELs
The OpenRB-150 is compatible with all DYNAMIXEL models.
However, additional equipment is required for use with the following types of DYNAMIXEL.
1. RS-485 types:
The DYNAMIXEL Communication Bridge is required to convert signals.
2. 24V types:
A separate power supply is required.
3. AX and MX Series (Molex connectors):
A Molex-JST convertible cable is required.
■  Please note:
The Arduino MKR board is not included in the package.
When supplying power, please check the jumper settings. (USB C Type, VIN, Terminal VIN)
Please do not charge the battery when it is connected to the controller.
Please check the power input terminal before connecting it to the controller.
■  Hyperlinks